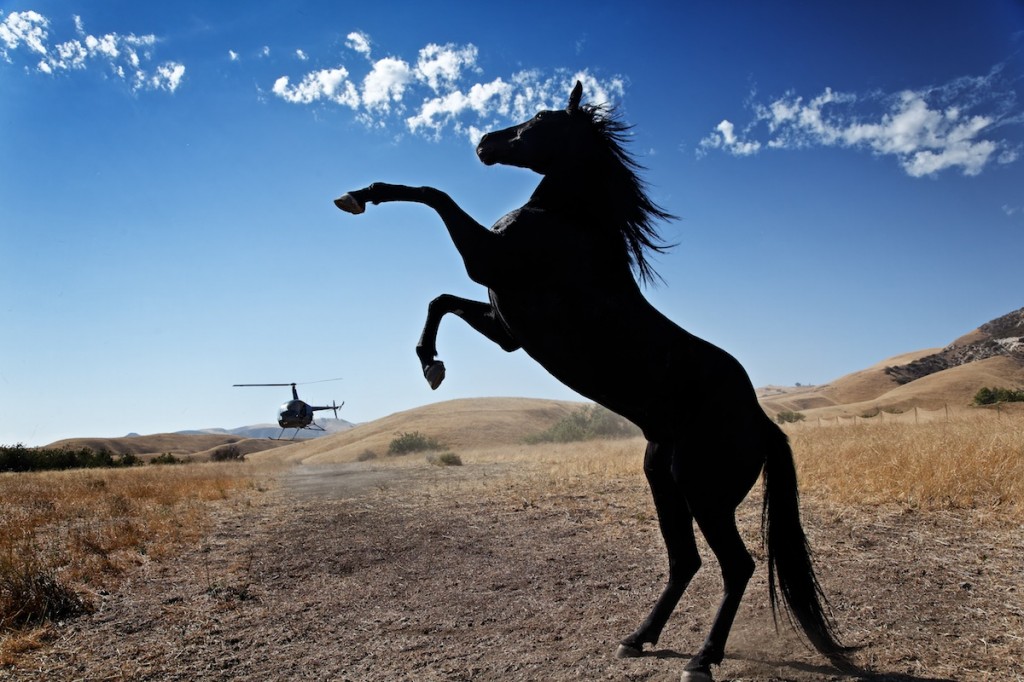 The black stallion reared up to face the helicopter. Dust and brush pelted me as I braced, pointing my camera upward as it hovered, bearing down on me. Sun streaked into my lens. It looked near perfect…
Of course it looked near perfect.  It was a MOVIE—not an authentic life encounter with real wild horses and helicopters like I experienced when I was working on a story for National Geographic magazine on mustangs.
(And… no, that's not me. She's an actress (Mireille Enos) who plays Brad Pitt's wife in an upcoming zombie movie, and she is the heroine in this film.)
Although there were long hours waiting to shoot pictures, there wasn't the uncertainty I feel in real life wondering "if" it will happen but in this case "when" it would happen. There were a few parallels to my life, but I still am a bit mystified how I ended up on a Hollywood movie set. The manufactured scenes looked as realistic as the real-life Western roundups I witnessed with horses, helicopters and wranglers.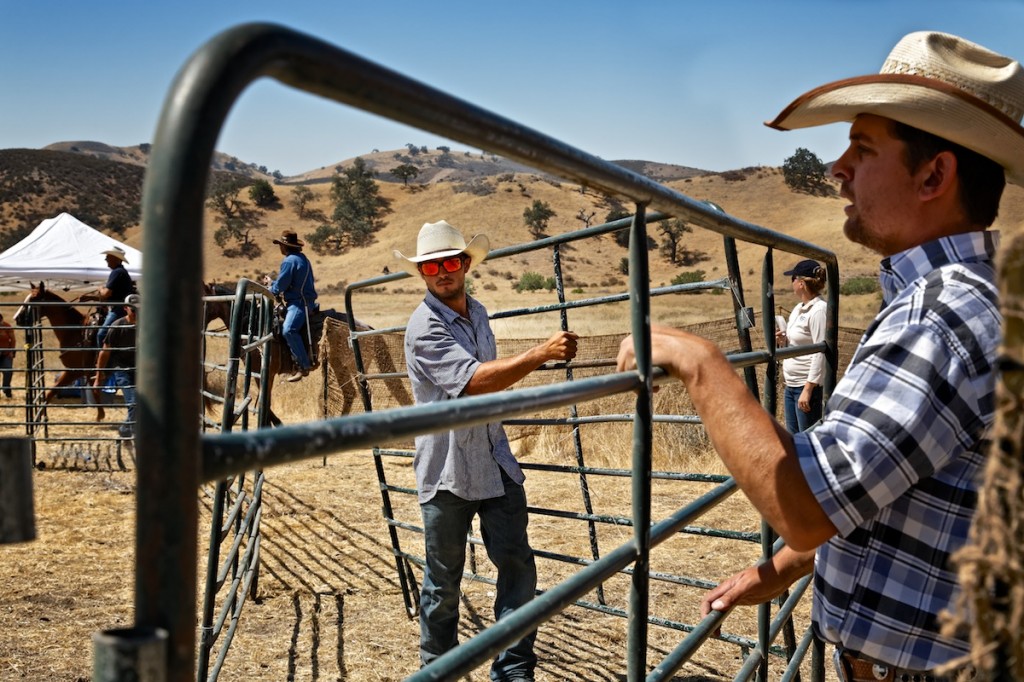 I can always tell it is the end of a semester when students are on deadline and write me with a list of questions for a class paper. They want to know where is the most exciting place I've ever been, what is my favorite picture and how they can become a "National Geographic photographer." The Internet makes me accessible. Randy and I also get numerous requests to donate photographs to fundraise for worthy causes. Some get answered. Others don't. When I am on the road for weeks at a time, emails like this can get lost in the shuffle.
I kept one such email request in the IN box, however, and read it months later. A woman making a film wanted to use some of my photographs—her subject was near and dear to my heart—wild horses.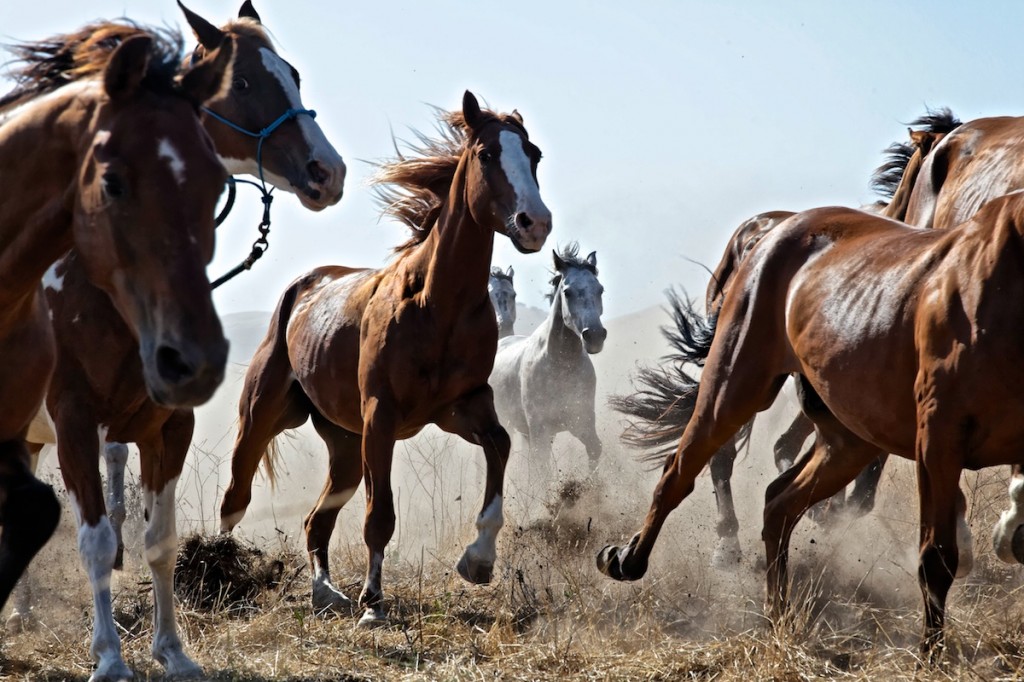 We corresponded and spoke on the phone.  I heard her passion and engaged. One thing led to another and all of a sudden I found myself on a plane to LA to photograph on a movie set with some of the most impressive, talented people in Hollywood film.  I have to admit that part of what captured my attention is that Stephanie Martin co-wrote a script with her Wellesley classmate Jessica Walsh to point out the issues surrounding mustangs in the American West. She happened onto my web site and found some inspiration and formed a story where a magazine photographer has an encounter with a mustang named Phantom and ends up photographing a BLM round up of wild horses. No, it isn't about me specifically–I wasn't arrested (that would be EARLIER in my career) and I didn't grow up in Nevada (Indiana), but I was intrigued that my life and my photographs of wild horses triggered a reaction from her, and something told me this would be an interesting experience.
Stephanie (on far left in above photo, next to me) who has made a career as a Cinematographer in features, shorts, documentaries and commercials, was accepted into an American Film Institute directing workshop for women. She is a sincere, strong-willed, persuasive and focused woman who was following her dream to direct—but little did I know that she is also married to one of THE MOST talented and admired cinematographers in the world (Robert Richardson—google him) who won Academy Awards for Hugo (last year), also for The Aviator and for JFK.  He's worked with directors Martin Scorsese, John Sayles, Rob Reiner, Oliver Stone, Barry Levinson, Robert De Niro, Errol Morris, Robert Redford, and Quintin Tarantino and has an amazing eye for drama and light. Bob was going to shoot Stephie's film.
So this short 12-15 minute film with a budget raised partly on Kickstarter was in reality a pretty big production of some of the most gifted assistant directors, editors, camera operators, producers, actors that anyone could assemble. They were all DONATING their time and talents to make a great little movie that might turn into a big-time full-length feature film. At any one time there were dozens of people on the set—but there were so many friends and co-workers behind the scenes—I am guessing there were 60-70 people involved in the one-week shoot.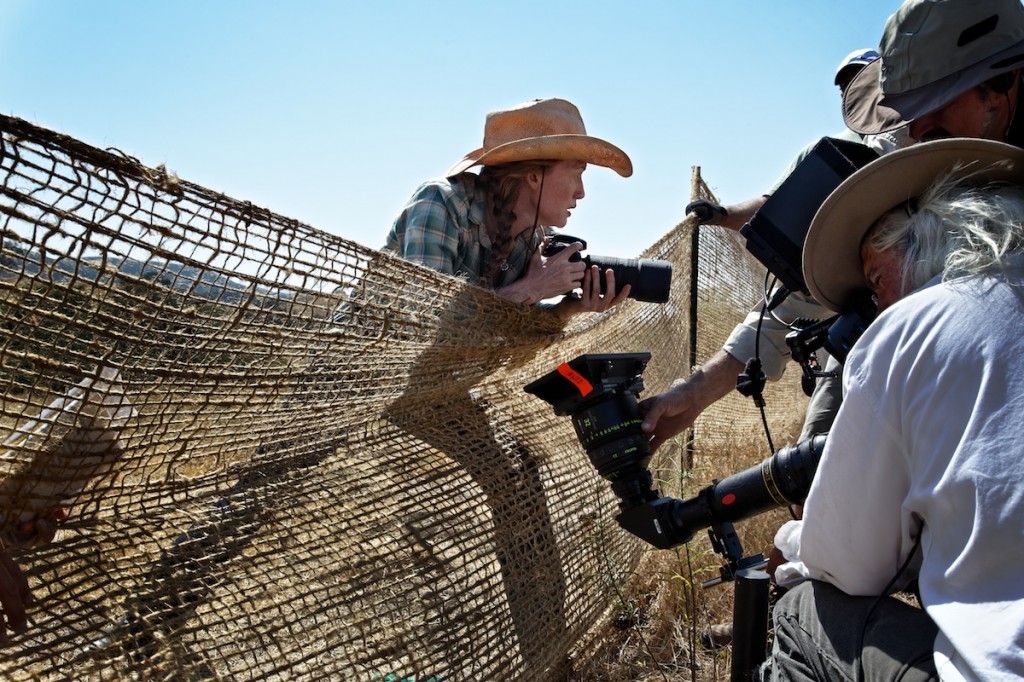 My role was to photograph images that the heroine photographer shoots in the film (Mireille Enos, TV show "The Killing" who also stars with Brad Pitt in "World War Z" is shown above)…to coach her to be a believable photographer (she was a natural)…and to photograph behind the scenes (much fun but a delicate dance). Bob let me set up a camera anywhere around him—under him—over his shoulder, beside him—of course just not in front of him. He was aware of everything going on around him all the time. Not a particularly willing subject, he tolerated me making photographs of him. I think he understood this was Stephanie's moment and he wanted it to work.