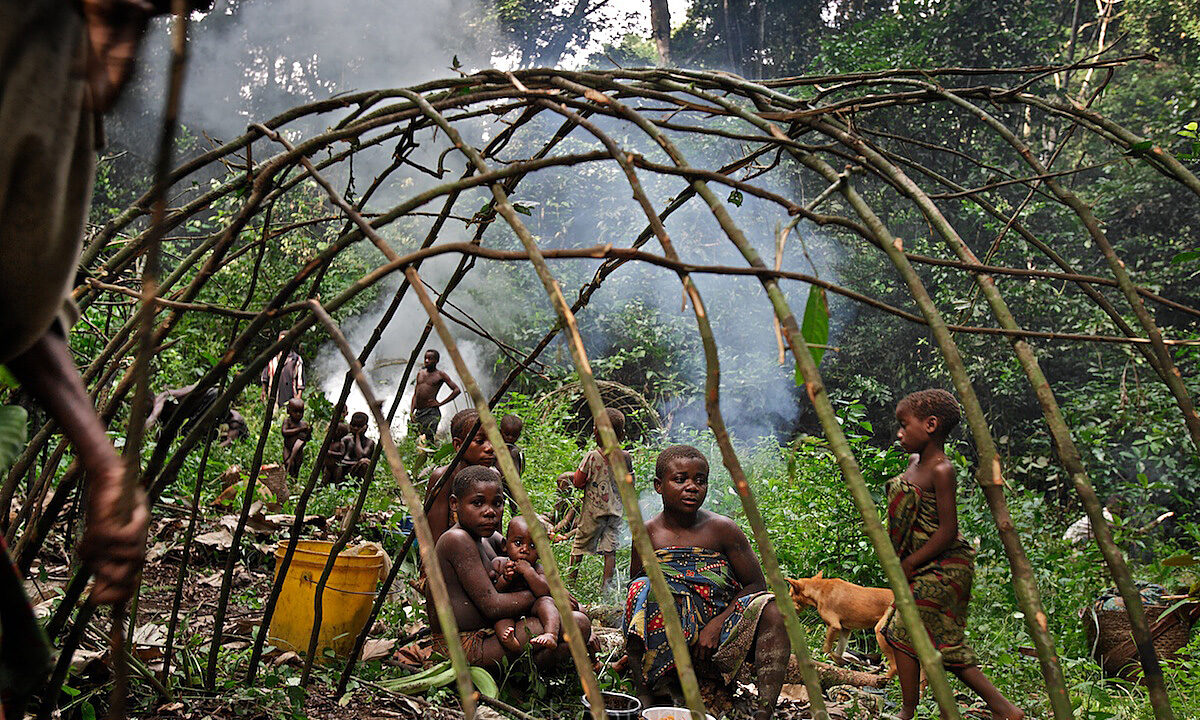 Pygmies hiked for two days to a site where they made a hunting camp in the Ituri forest. Women constructed the nighttime shelters in a couple of hours, bending branches to create a superstructure they later covered with leaves from the forest. The forest hunting camps are about 10k apart, and 10K from where the hunters string their nets. Boys who are going through the end of the circumcision ceremony called nKumbi accompanied the adults to the camp. They had their own structure housed off to the side, and were sent off into the forest to hunt or fish.
From my journal: The next morning I need to change shirts, and I realize I should go into the tent to do it, but it is a production to do anything in a small tent, and all of these folks are half naked anyway… So… I take off my shirt in the middle of the camp and 70 pygmies all gasp and cry out at once… the sight of that much white skin is a bit much for them. I am ok with that, but I am really tired of all the babies crying when I come near and even their friendly little dogs start barking like crazy when I am close to them.
Pygmies are noisy and happy… they stay up late yelling at each other and telling hunting stories… acting out the animals. After being around these folks I know one thing is true… most westerers have no idea how to have fun. Pygmies laugh until they need others to help them stand up.
Pygmies have access to matches, but they prefer to carry fire—usually just a smoldering chunk of log or sometimes embers wrapped in leaves. I try not to use strobe because it really scares them, but reviewing photos on the back of a digital camera can draw a crowd of thirty or more—all making noise and excitedly pointing at the back of the camera.
Pakulu's cheap batteries are starting to go, but every day we get news of troops massing at the Congo/Rwanda border. The station in Epulu has an "early warning system" – when the toleca (bicycle transport) riders quit coming on the trans-African highway (footpath) they go into high alert.
There are three chiefs in our hunting group. The king of the pygmies is the Bantu chief who owns 122 pygmies; his name is Potoliko Putnam… his father worked for Putnam, the first white man to settle in the area and Potoliko's family assumed the name. The chief of the pygmy group that was our guide thru the woods is Aposindakala and the other pygmy chief is Angotu.
Buy This Image